Irish Brown Crab are a good source of Protein & Omega-3 Fatty Acids
Nutritional Facts
The meat from the claws and body of Irish brown crab not only have distinctive tastes, but have different levels of nutrients which are outlined in the tables below.

The white meat from the claws is a high protein source and low fat.

The brown meat from the body of the Irish brown crab is a high protein and fatty acid source which are an important beneficial nutritional feature of shellfish.

Brown Crab contains long chain omega-3 fatty acids

Long chain omega-3 fatty acids are called DHA and EPA. They are only found in oily fish such as herring, mackerel, salmon, sardines, pilchards, kippers and trout. The human body has very limited ability to make long chain omega-3 fatty acids. Therefore, they are sometimes referred to as essential fatty acids.

These long chain omega-3 fatty acids are very important as they help to prevent blood clots forming and are protective against heart disease. They are also important for brain and eye development in babies during pregnancy and early life. This is why fish is recommended, especially oily fish.

More information can be found in the

Food Safety Authority of Ireland

publication

Healthy Eating Guidelines 2011

.
---
Nutritional Information for Brown Crab - Claws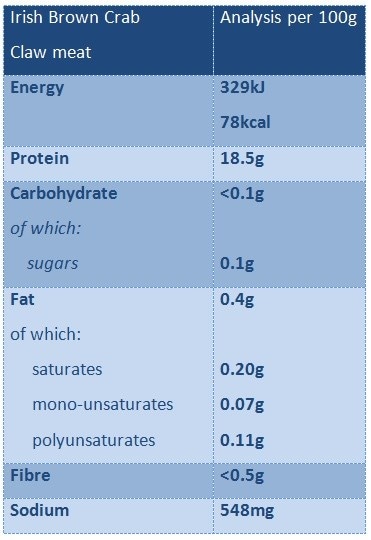 Nutritional Information for Brown Crab - Body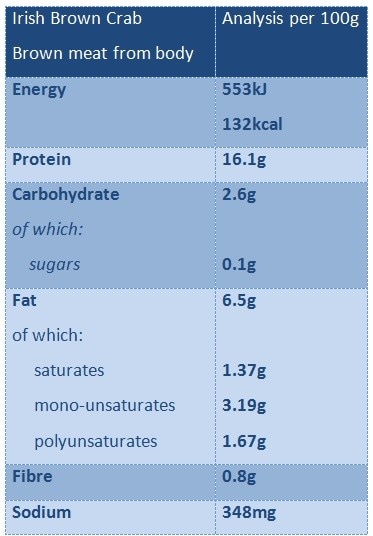 Source: irishbrowncrab.com
---
Recipes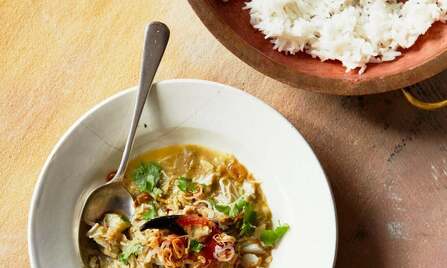 The Spicy Curry: Jungle Curry with Brown Crab
Crab carcass, shell and legs, for stock

125g crab meat

2 crab claws, partially cracked

3 tbsp vegetable oil, for frying

3 red shallots or 1 red onion, thinly sliced

½ tbsp fish sauce

5 sprigs coriander, leaves picked, stalks kept for curry paste

Rice, to serve
Method:
First, make the stock. Add the crab shell, carcass and legs, plus the scraps from preparing the curry paste veg, to a saucepan. Cover with water, simmer for 30 minutes. Strain and set aside.
Now, make the paste. In a pestle and mortar or blender, grind together the salt, chillies and lemongrass, add the galangal, shallot, garlic and coriander. Stir in the shrimp paste and lime juice. Set aside.
In a medium-hot, oiled wok or frying pan, fry the shallots in batches until golden and crispy, then set aside. Remove all but a little of the oil to fry the curry paste. Over a high heat, fry the curry paste, stirring constantly until pungent. Add the fish sauce and 500ml of the crab stock, then bring to the boil. Add the crab claws and meat, cover for 3 minutes. Stir in the shallots and coriander. Serve with rice.
---
Source: theguardian.com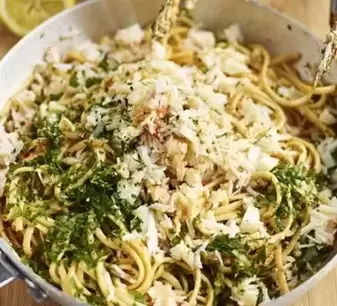 Crab Linguine with Chilli & Parsley
400g linguine
4 tbsp extra-virgin olive oil
1red chillies, deseeded and chopped
2 garlic cloves, finely chopped
100g/4oz cooked brown crabmeat
200g/7oz cooked white crabmeat
5 tbsp, white wine
Small squeeze of lemon (optional)
Large handful flat-leaf parsley leaves, very finely chopped
Method:
Bring a large pan of salted water to the boil and add the linguine. Give it a good stir and boil for 1 min less than the pack says. Stir well occasionally so it doesn't stick.

While the pasta cooks, gently heat 3 tbsp of olive oil with the chilli and garlic in a pan large enough to hold all the pasta comfortably. Cook the chilli and garlic very gently until they start to sizzle, then turn up the heat and add the white wine. Simmer everything until the wine and olive oil come together. Then take off the heat and add the brown crabmeat, using a wooden spatula or spoon to mash it into the olive oil to make a thick sauce.

When the pasta has had its cooking time, taste a strand – it should have a very slight bite. When it's ready, turn off the heat. Place the sauce on a very low heat and use a pair of kitchen tongs to lift the pasta from the water into the sauce.

​Off the heat, add the white crabmeat and parsley to the pasta with a sprinkling of sea salt. Stir everything together really well, adding a drop of pasta water if it's starting to get claggy. Taste for seasoning and, if it needs a slight lift, add a small squeeze of lemon. Serve immediately twirled into pasta bowls and drizzled with the remaining oil.
---
Source: bbcgoodfood.com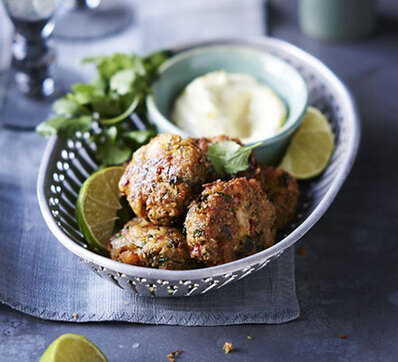 Spiced Crab Cakes with Lemon & Lime Aioli
100g white crabmeat
2 spring onions, finely chopped
1 red chilli, deseeded & finely chopped
small pack coriander, finely chopped
2 tbsp sesame seeds
50g breadcrumbs
1 large egg yolk
sunflower oil, for frying
plain flour, for dusting
3 tbsp mayonnaise
zest 1/2 lime
zest 1/2 lemon
Method:
Combine the crab, spring onions, chilli and coriander in a large bowl. Heat a small frying pan and toast the sesame seeds. While they're still hot, use a pestle and mortar to roughly grind, then tip into the bowl with the crab. Add the breadcrumbs, egg yolk and seasoning, and mix lightly. Shape into 6 patties and chill for at least 30 mins.
For the aïoli, mix the mayonnaise, zests and a squeeze of lemon juice. Heat 0.5cm depth oil in a non-stick frying pan. Dust the crab cakes with a little flour and fry gently for 3 mins on each side until crisp and golden. Drain on kitchen paper. Serve the crab cakes with the zesty mayonnaise, wedges of lime and a few coriander leaves scattered over the top.
---
Potted Crab
150g picked white crabmeat
2 tbsp mayonnaise
1 shallot, peeled & finely chopped
small handful chives, chopped
1/2 orange, zested
2 large slices sourdough
60g butter
1/4 tsp smoked paprika
Method:
Tip the crabmeat into a bowl and mix with the mayonnaise, shallot, chives, orange zest and some seasoning. Spoon the mixture into a shallow serving dish. Smooth the top over, then pop in the fridge to chill.
Gently melt the butter and smoked paprika together. Leave the butter to cool a little, but don't let it solidify. Carefully pour the clear butter fat over the crab, leaving the milky butter residue still in the saucepan. Return to the fridge for 20-25 mins or up to a day to firm the butter up. Serve with some grilled sourdough for spreading everything over.
---